Regular price
$442.00 USD
Regular price
$449.00 USD
Sale price
$442.00 USD
Unit price
per
Sale
Sold out
6W user-powered smartphone charging
Integrated iOS and Android app
Adjustable tension control
Whisper quiet and foldable
Share
Dimensions / Weight

Dimensions

77cm | 30" Length

40cm | 15.75" Width

77-84cm | 30.3-33.1" Height

Weight

17kg | 37lbs
Technical Specs

Power Input

Self-Generated | Lithium Ion Back-up Battery

Processor

Dual Core BLE/Wifi Enabled Microcontroller

Max Load

100kg | 220lbs

Noise

< 57Db
FAQ

Return Policy

We accept returns up to 30 days after the product was delivered. Please contact customersupport@ergonomyx.com to initiate a return. We will issue a full refund to Ecommerce orders minus the return shipping cost upon receipt and inspection of the returned item at our office in Victoria.

Warranty

All of our desks (and bikes) are protected by a 2-year warranty.
View full details
Don't just take our word for it...
High Quality, Great Price!

I have two Smart Sit Stand Desk (Medium in Bamboo) from Ergonomyx. They are outstanding quality, look great, are easy to assemble and more than fairly priced. I'm impressed.

Easy "5 out of 5 would recommend".

~ Dan

Great Desk!

I bought this standing desk as a way to try and increase my productivity. Being local to where the company is based, it was delivered the day after I ordered it. It's very spacious and the motor is relatively quiet.

~ Jasmine

In LOVE with this desk!

It's really a beautiful desk, very sturdy at at standing height. The curve in the desk is so nice and allows me to tuck my chair in nicely when its not in use which is a big plus in a tiny condo. I also loved that I got to support a Canadian company!

~ Amazon Customer
Feel Better Than Ever
Redefine the finish line.
Studies show that exercising at your desk helps you release neurotransmitters that alleviate anxiety, lack of focus, and brain fog. This in turn drastically benefits mood, energy, and productivity throughout your day. Stay fit, stay focused, and reach your next level.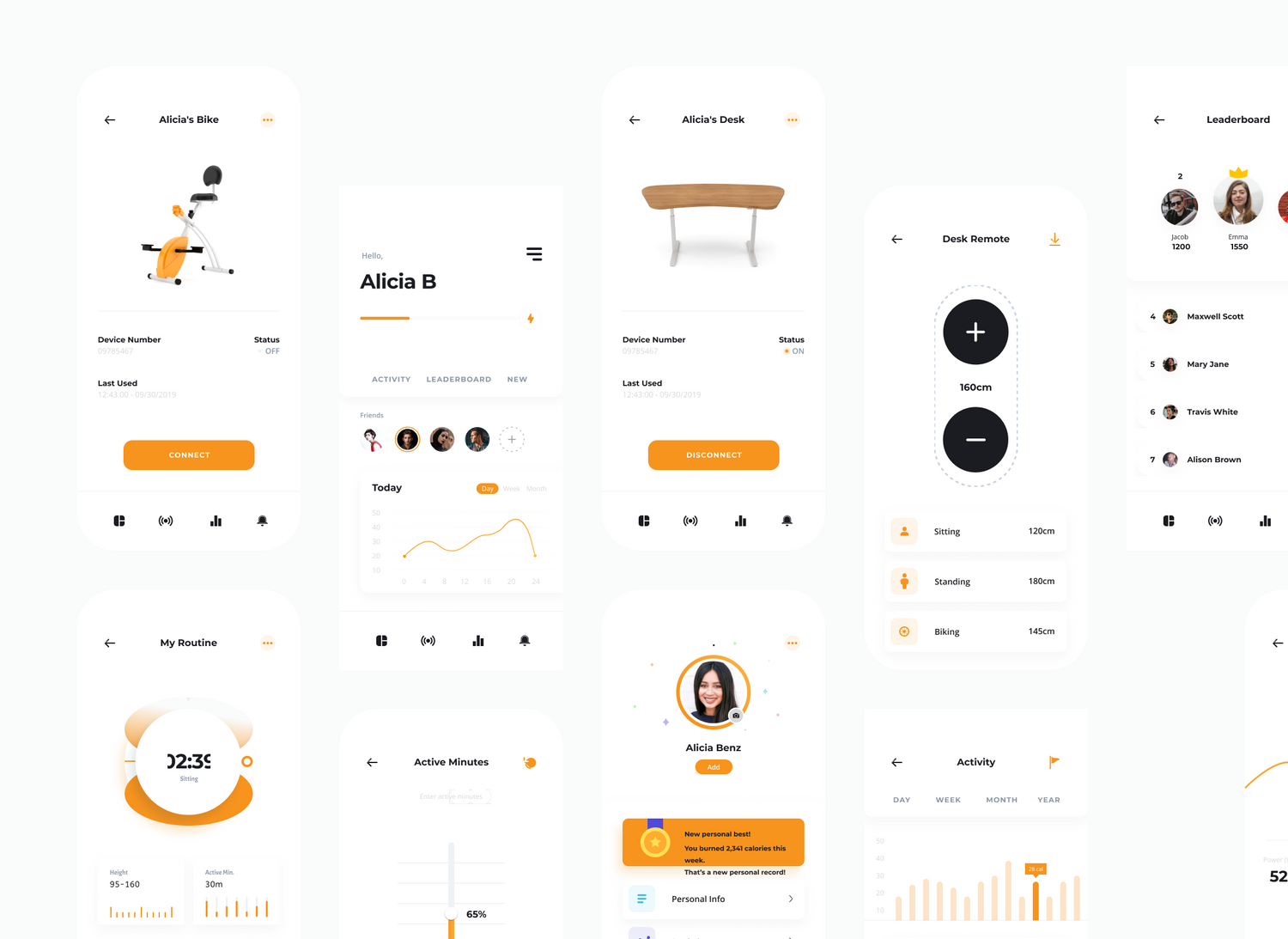 Smartphone-enabled motivation and tracking
The only desk bike that keeps you motivated to meet goals and exceed expectations... with an Apple and Android companion app. 
Set routines that keep you moving. Climb the global leaderboards and earn achievements to bring that extra layer of satisfaction from daily movement. 91% of workers found that gamification improved their work experience while also increasing motivation, productivity, and bonding within a team.  Dominate the leaderboards, keep moving with routines that remind you when to sit or stand, and configure height presets for sitting, standing, and biking. All within the Ergonomyx app for iOS and Android.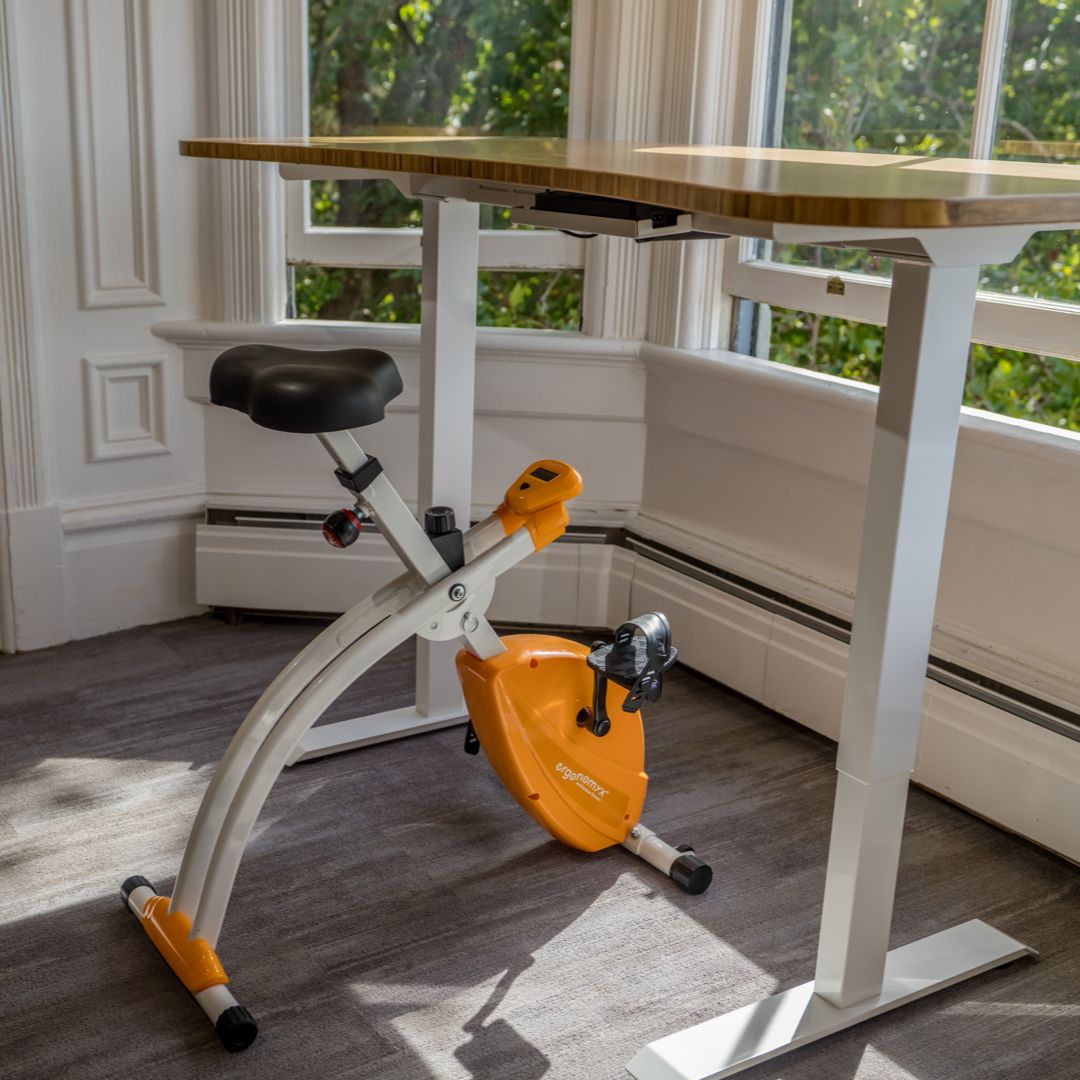 The best-built under-desk bike on the market
Unlike many at-home fitness machines, the Ergonomyx Under-Desk Bike is built from quality components - and it's so quiet you can use it on calls.
 We source high-grade components from manufacturers we trust, and we back their work with a two year warranty and 30 day, hassle free, return period. Each bike is manually assembled and quality control tested by our dedicated engineering team at our home office in Victoria B.C before getting shipped out. The care we put into our products is a reflection of one of our pillars of existence. To create well designed IoT office health products that make an extra level of health and motivation accessible for those bound to a desk.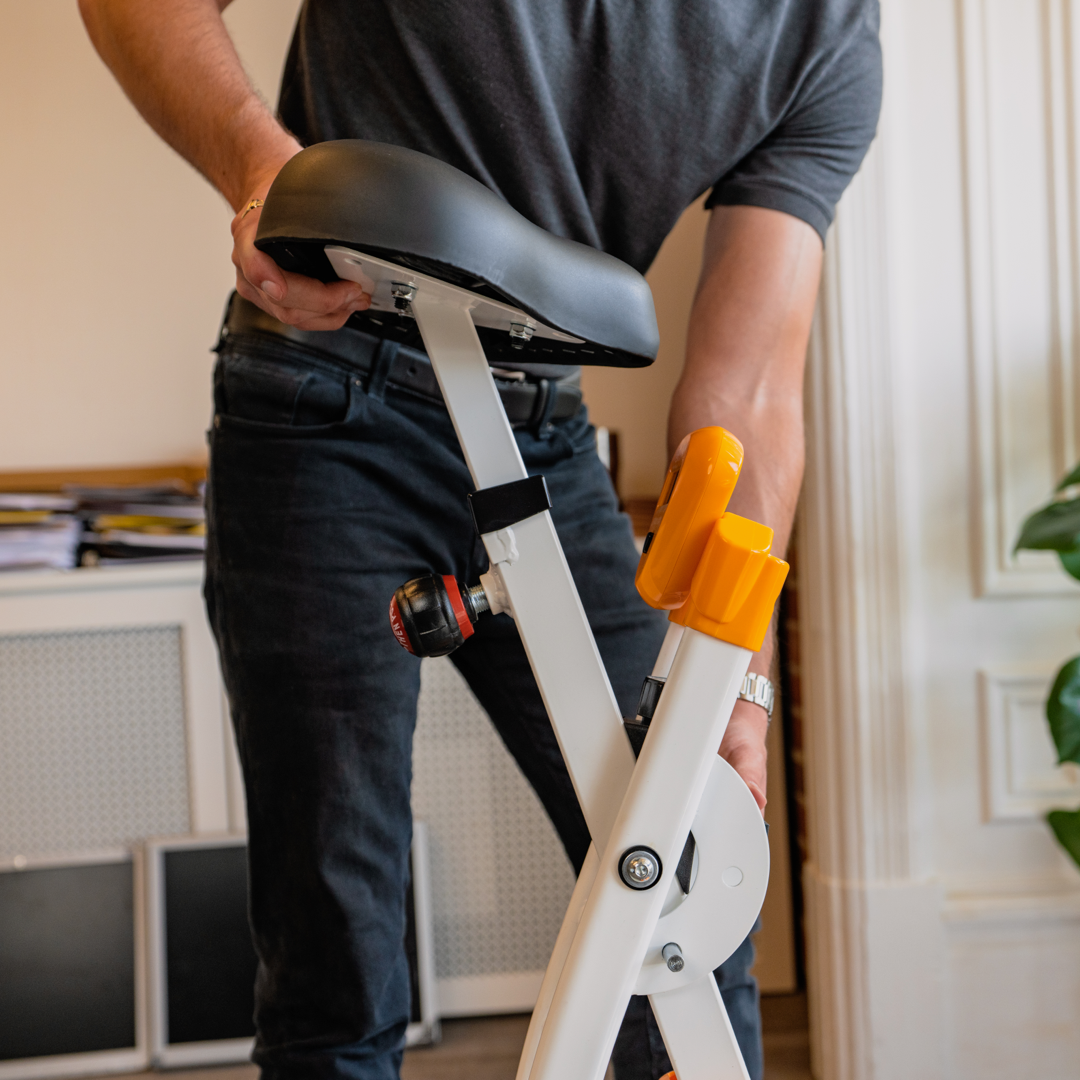 Fits any workspace with a standing desk
Designed for all standing desk heights - with a folding, rolling design that makes it easy to store when not in use.
Whether you're at a corporate or home office, space is always a factor when adding something new. So making the under desk bike as low-impact as possible was an absolute must. All you need is about a 1 foot by 2 foot space to comfortably store the bike when folded. We also brought sound down to under 57 decibels. Making our smart bike quieter than and air conditioner, or an office.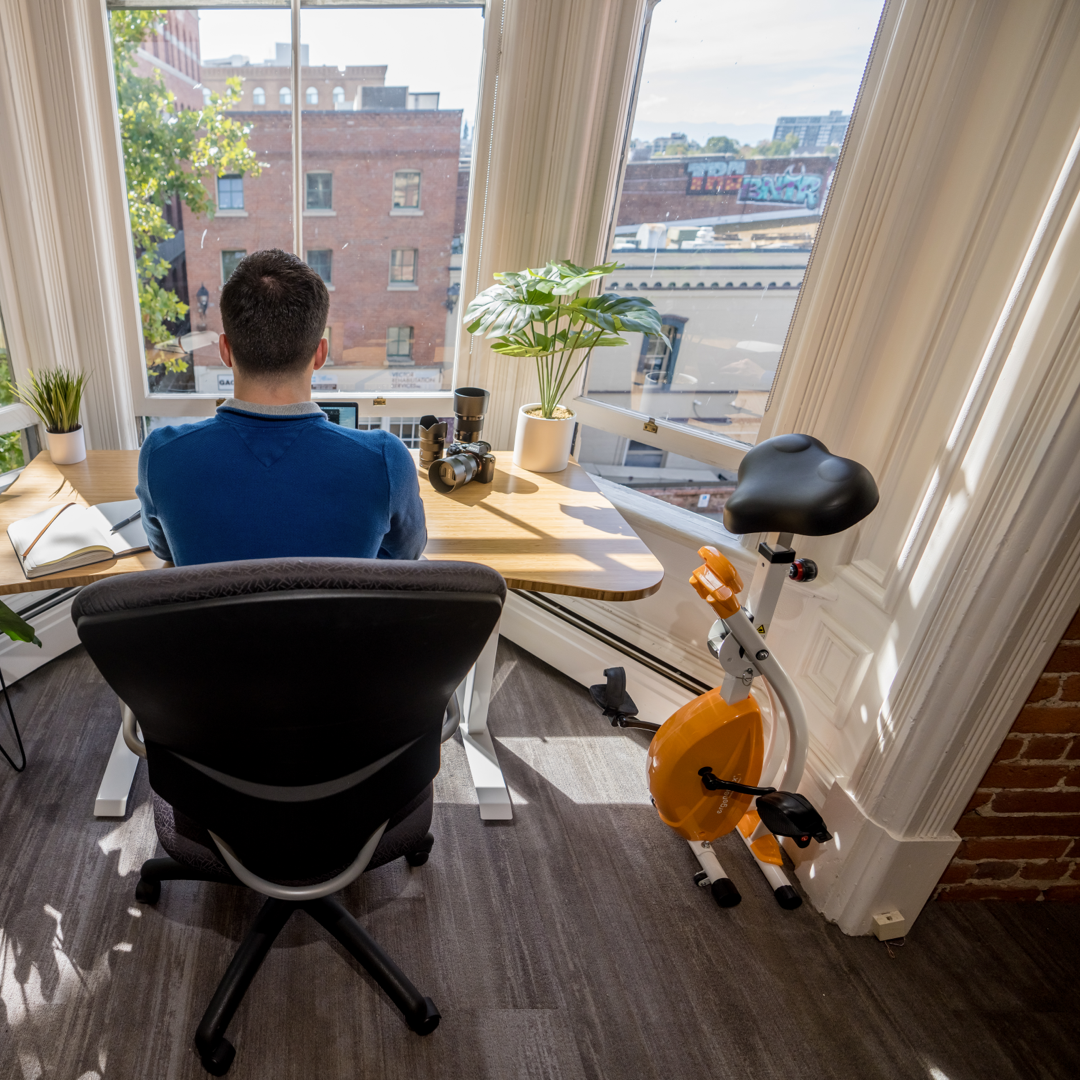 Go green and ditch the wires
Unlike many competitors, the Ergonomyx Under Desk Bike is powered through the pedals - so you don't have to change batteries or plug it in.
Never worry about your kid or coworker tripping over your bike any time you want to burn some quick calories. Simply wheel it up, unfold, and away you go. As you pedal, you generate electricity which is how the bike stays connected and sends real-time fitness metrics. All powered by you!
Take willpower out of the equation

It's easy to "forget" exercise - that's where the Ergonomyx app comes in. Use pre-made and custom routines to keep your legs moving.

Level Up and Stay Motivated

Track your power output in real time and push your limits with fitness challenges.

Challenge your friends and coworkers

Stack yourself up against friends and colleagues, whether you're in the same office or thousands of miles apart.