Regular price
$270.00 USD
Regular price
$653.00 USD
Sale price
$270.00 USD
Unit price
per
Sale
Sold out
 Our most popular Sit-Stand Desk!
Designed in Canada
Medium Rectangular Desk Top - 48x30 Inches
100% premium bamboo desktop
Adjustable with Touch Sensor OR smartphone
Integrated iOS and Android app
Available in Single or Dual Motor Options.
Tabletop Specs

Sizes

Ergonomic: 62x25 Inches

Rectangular Large: 60x30 Inches

Rectangular Medium: 48x30 Inches

Tabletop Colors

Natural Bamboo

Black

Leg Colors

White

Black

Tabletop Material

Our Natural ("Bamboo") tabletops of all sizes and all the desk frames are BIFMA LEVEL® 2 certified. Learn more here.

Weight

Ergonomic: 44lbs / 20kg

Rectangular Large: 53.6lbs / 24.4kg

Rectangular Medium: 34.4lbs / 15.4kg
Technical Specs

Power Input 100 - 240V AC

Motor Load Capacity 70kg | 154lbs

Noise < 50 dB (quieter than moderate rainfall or a hushed conversation)

Processor Dual Core BLE/Wifi Enabled Microcontroller

Height Range 29"-49.5"

Lift Speed 25mm/s

Stroke 500mm
Returns / Warranty

Return Policy

We accept returns up to 30 days after the product was delivered. Please contact customersupport@ergonomyx.com to initiate a return. We will issue a full refund to Ecommerce orders minus the return shipping cost upon receipt and inspection of the returned item at our office in Victoria.

Warranty

All of our desks (and bikes) are protected by a 2-year warranty.
FAQ

Can you mount a monitor arm?

Yes! Our desktops are made from real bamboo using a special pattern to provide maximum strength, so screwing or clamping a monitor arm would not be an issue. They also have a UV-cured, water-based polyurethane coating which would protect against any scratches a monitor arm might cause. Single or Dual Monitor arms are also available for purchase from Ergonomyx!

What are the dimensions of the different sizes of desks?Ergonomic

62x25 Inches

Rectangular-L

60x30 Inches

Rectangular-M

48x30 Inches

The leg frames and cables for my desk have arrived, but the tabletop is missing?

Although they are shipped together, sometimes there is a lag in the arrival of the tabletop. Rest assured that it will arrive in a matter of a few days.

How do you protect against unintended height adjustments?

You can temporarily disable gesture and touch controls using our "locking" function to prevent unintended height adjustments. The locking feature is enabled or disabled by touching both the up and down sensors at the same time until a vibration is sensed.

Have a different question? Please refer to our FAQ page or contact us at customersupport@ergonomyx.com
Share
View full details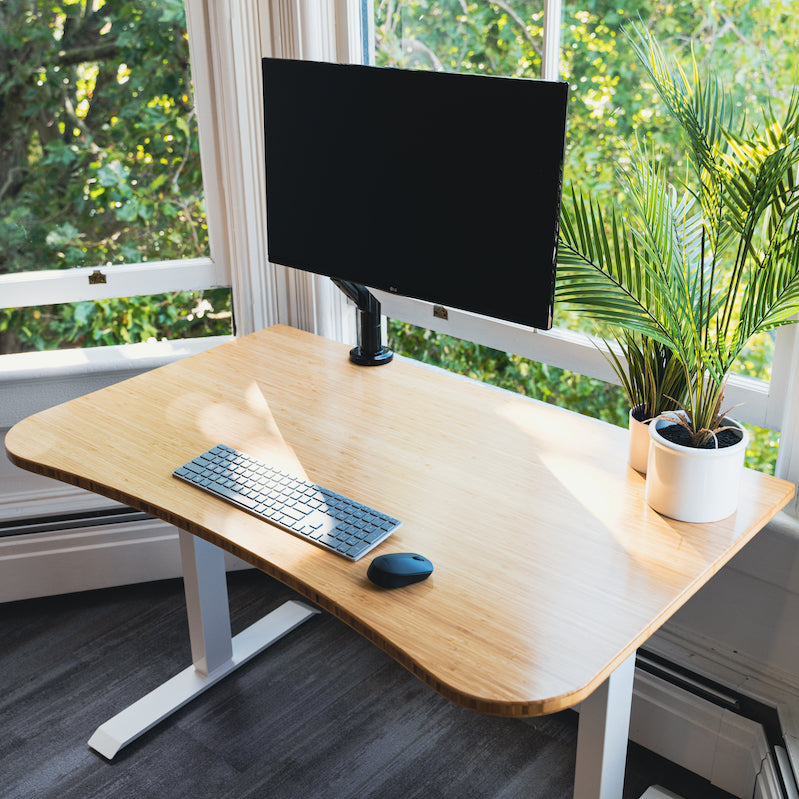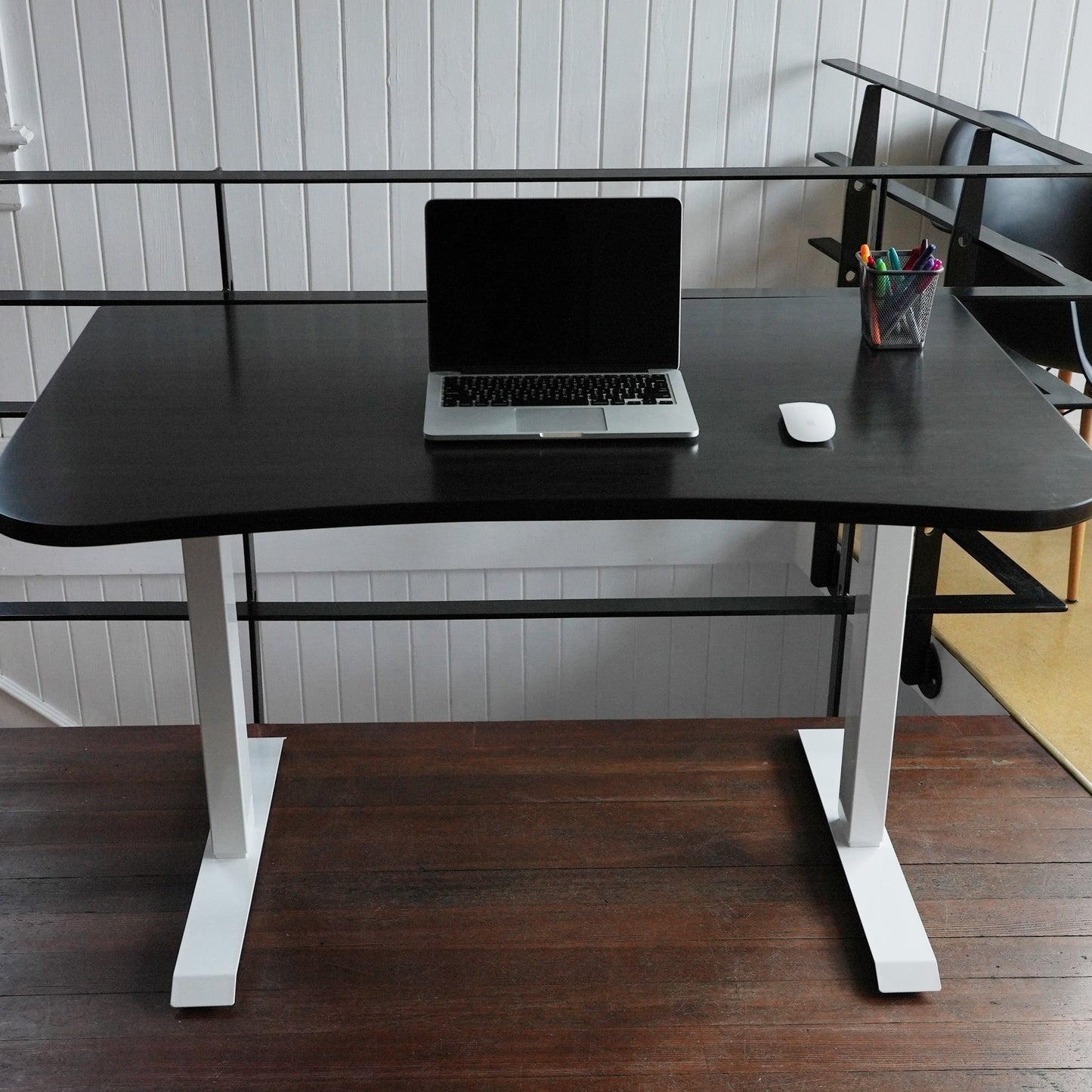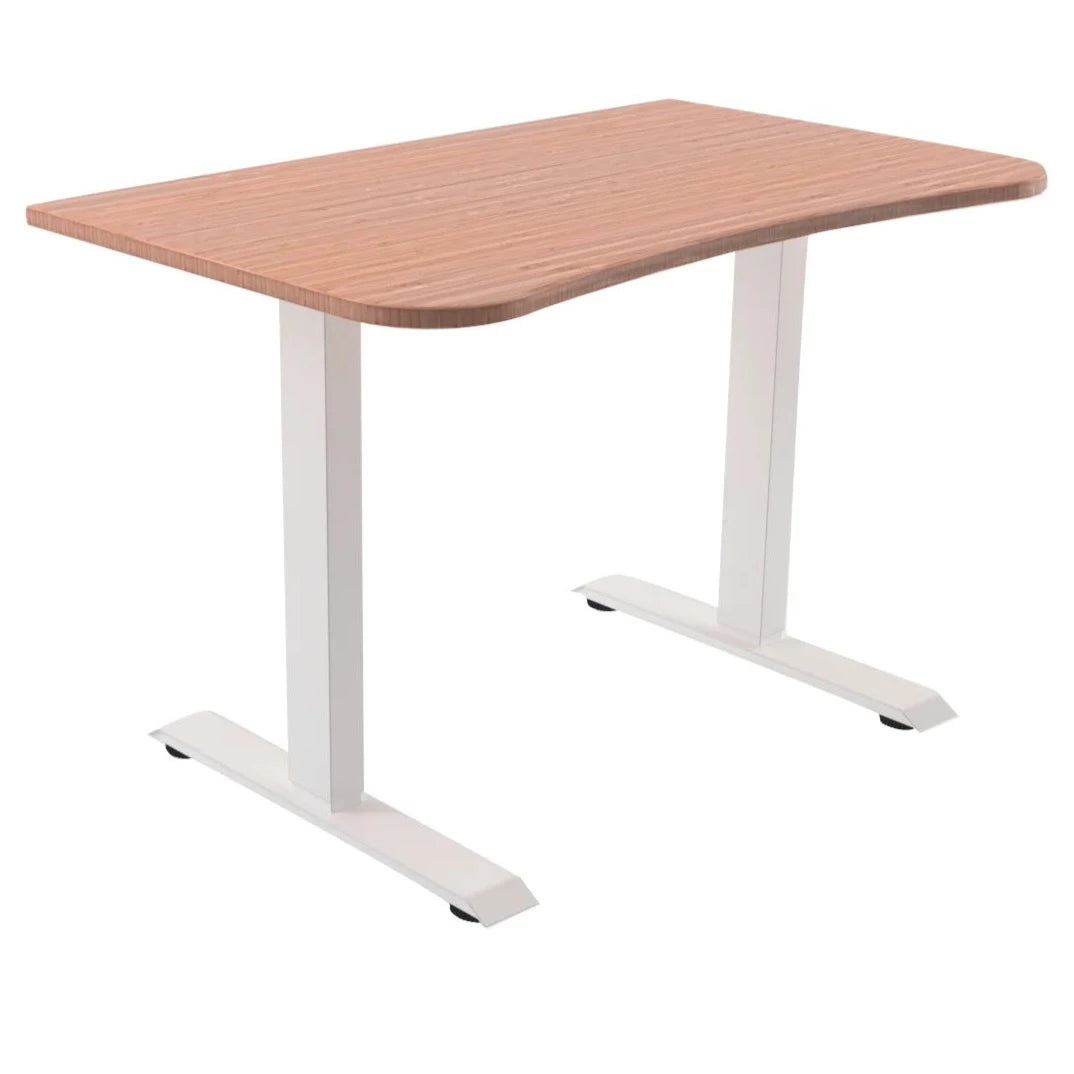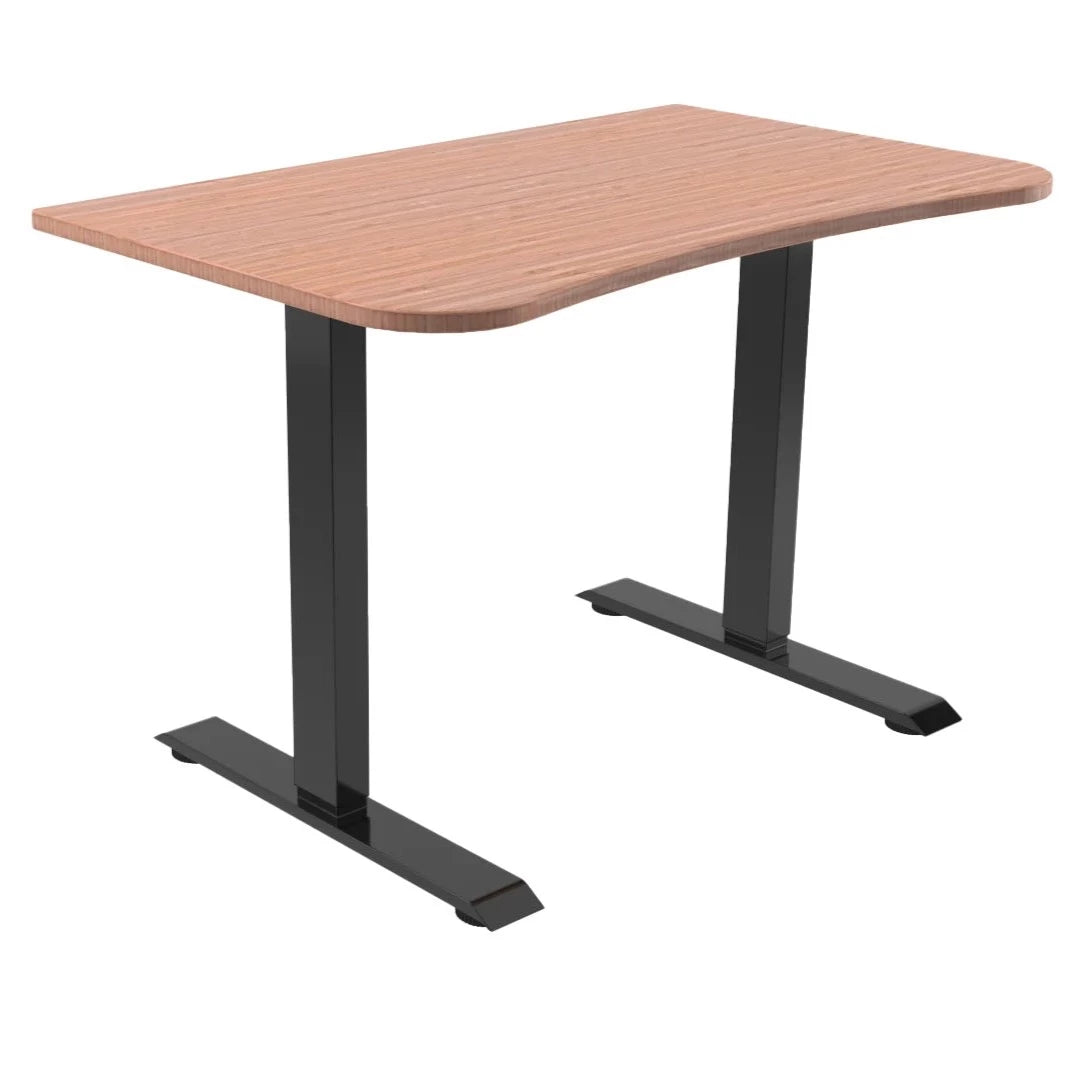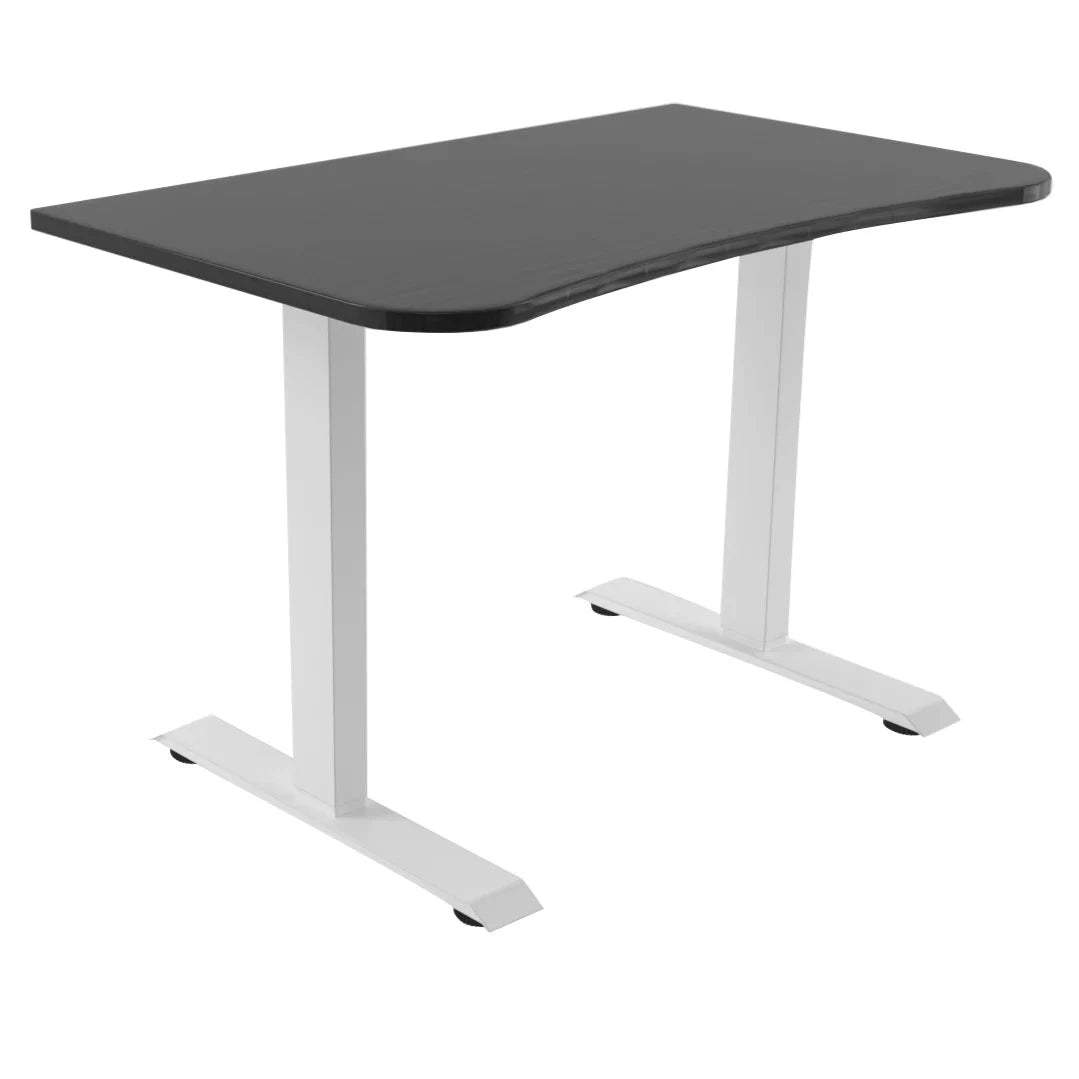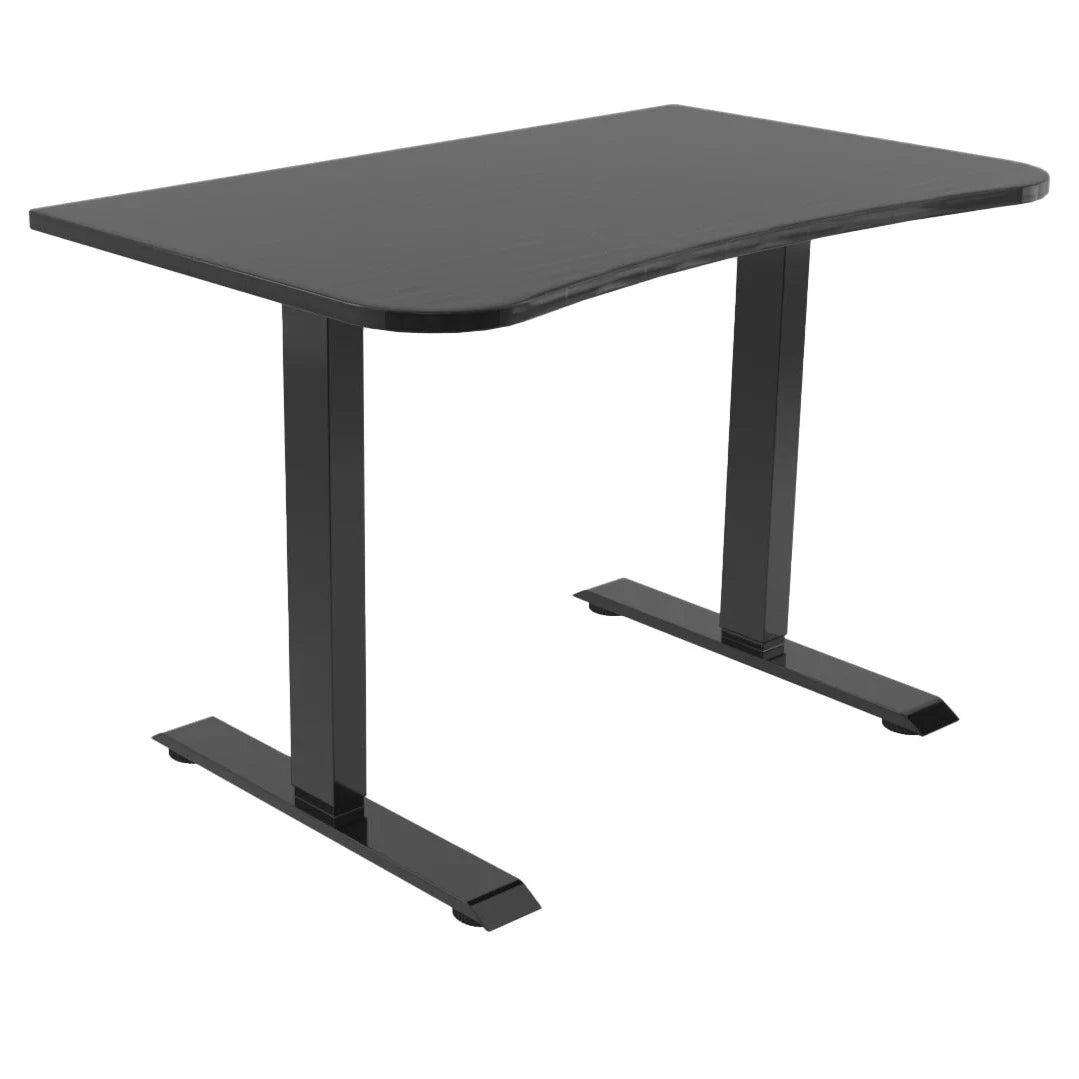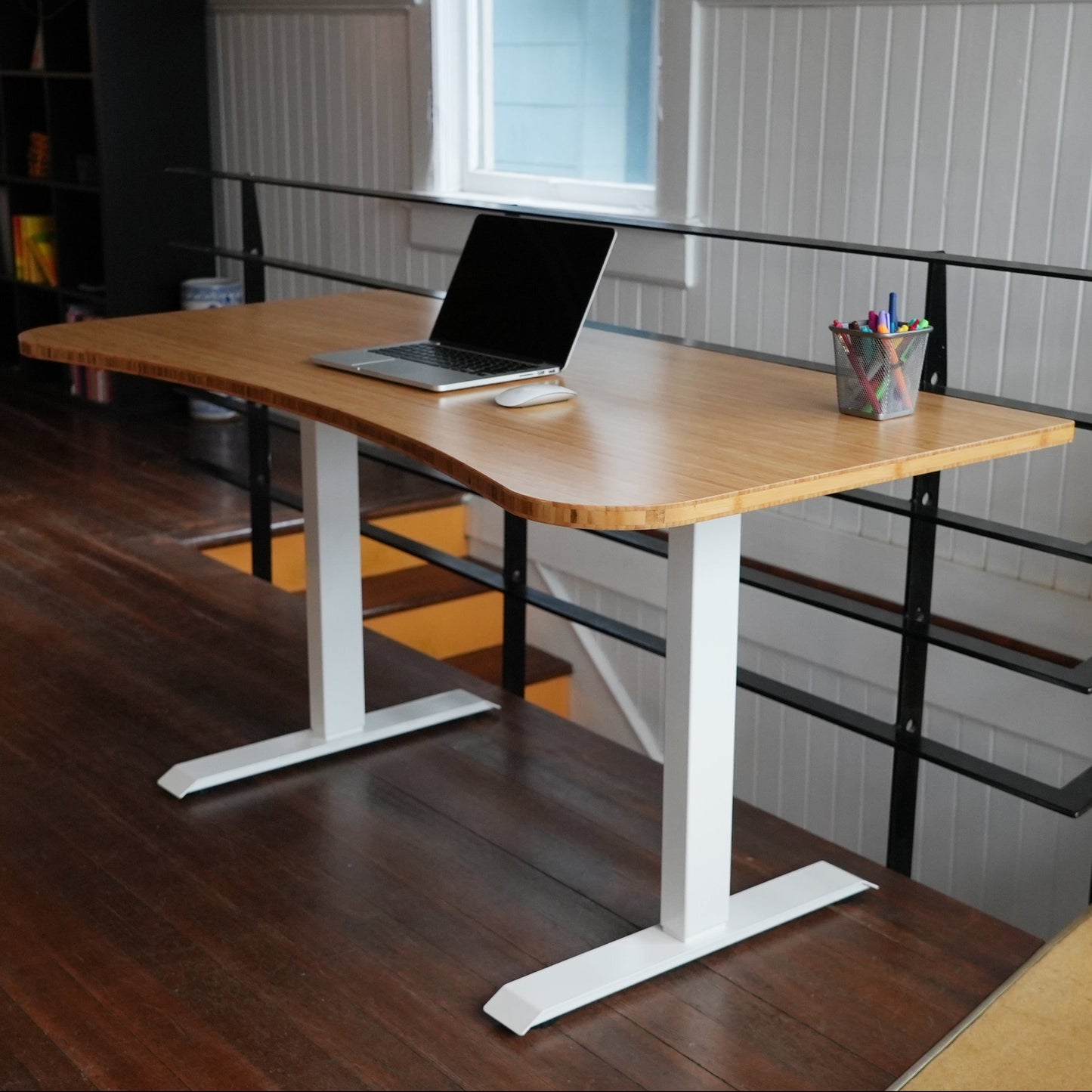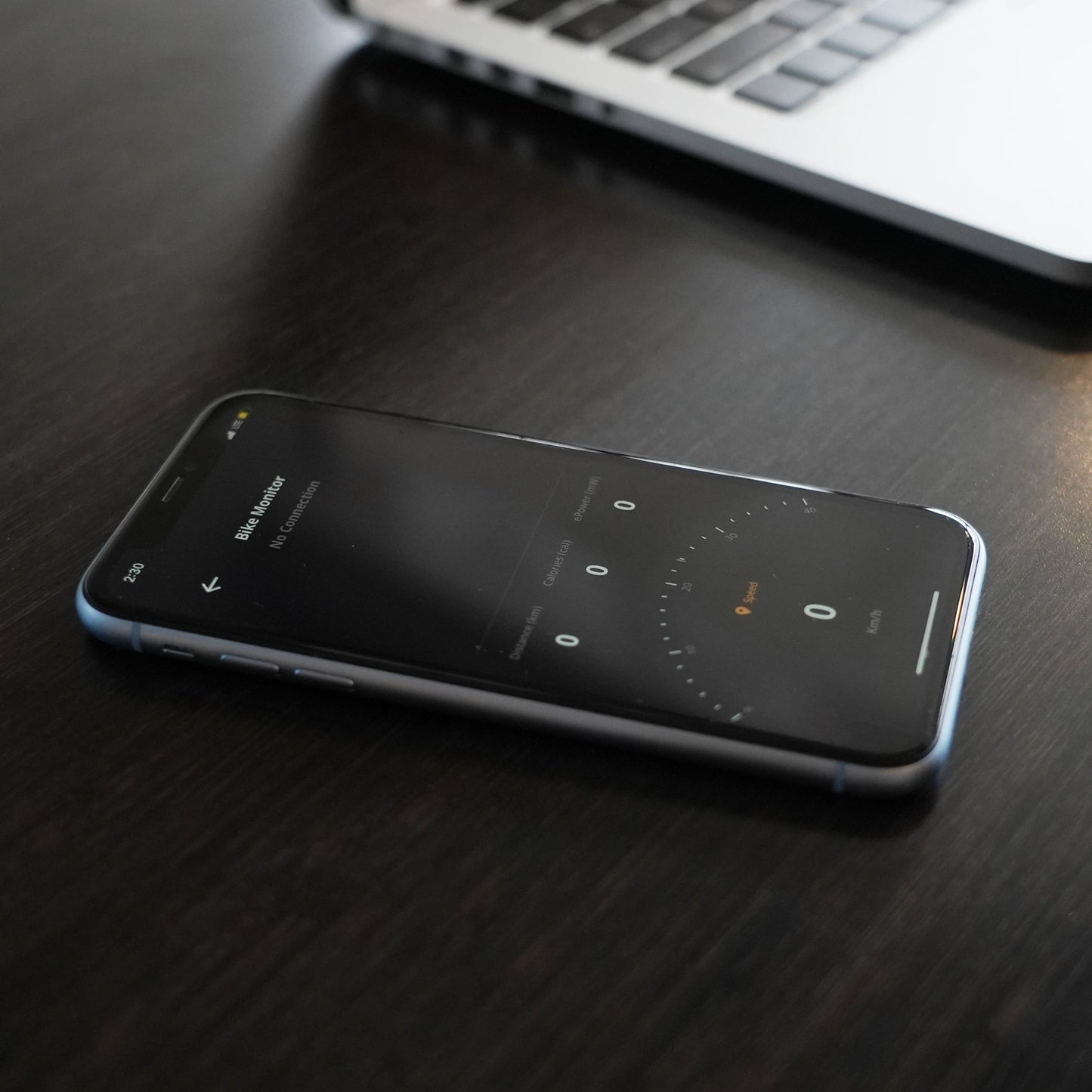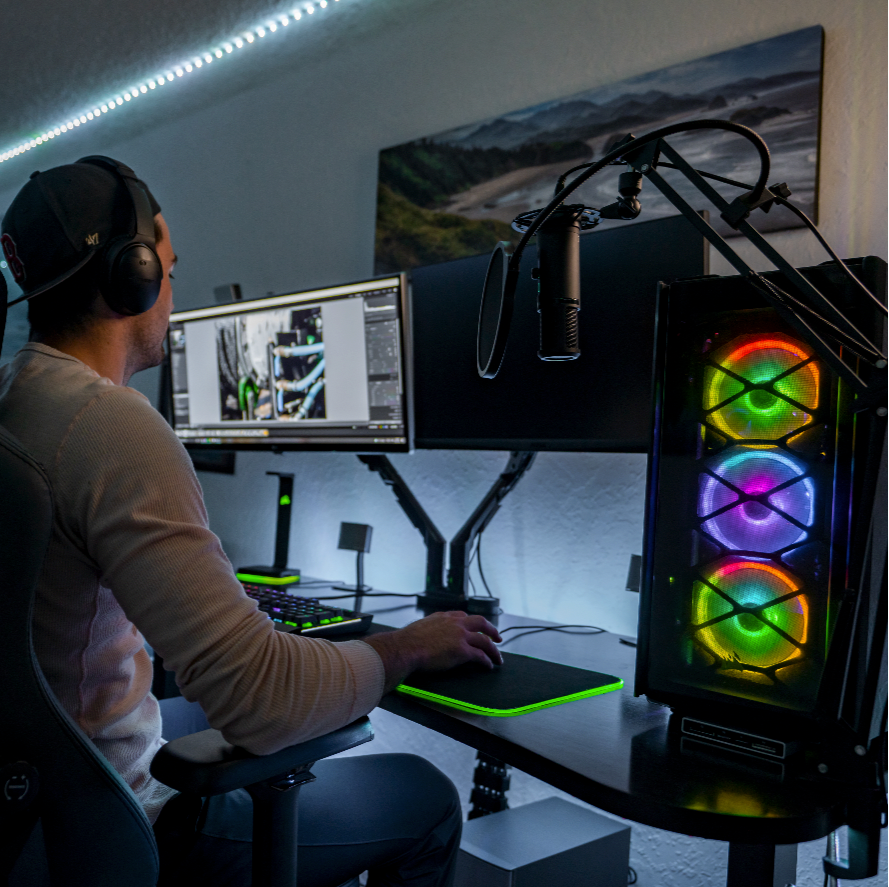 Don't just take our word for it...
High Quality, Great Price!

I have two Smart Sit Stand Desk (Medium in Bamboo) from Ergonomyx. They are outstanding quality, look great, are easy to assemble and more than fairly priced. I'm impressed.

Easy "5 out of 5 would recommend".

~ Dan

Great Desk!

I bought this standing desk as a way to try and increase my productivity. Being local to where the company is based, it was delivered the day after I ordered it. It's very spacious and the motor is relatively quiet.

~ Jasmine

In LOVE with this desk!

It's really a beautiful desk, very sturdy at at standing height. The curve in the desk is so nice and allows me to tuck my chair in nicely when its not in use which is a big plus in a tiny condo. I also loved that I got to support a Canadian company!

~ Amazon Customer
The key isn't standing... it's motion.
Once the novelty wears off, most standing desk users end up sitting all day. Studies show that alternating between sitting and standing is optimal for health and focus.
That's why we offer a data driven solution; because measuring activity is the best way to create the outcome you want. Track your time spent sitting and standing. Create routines to find your perfect balance. Connected fitness devices give you the best tools available to take full control of your workday health - feeling and performing better than ever.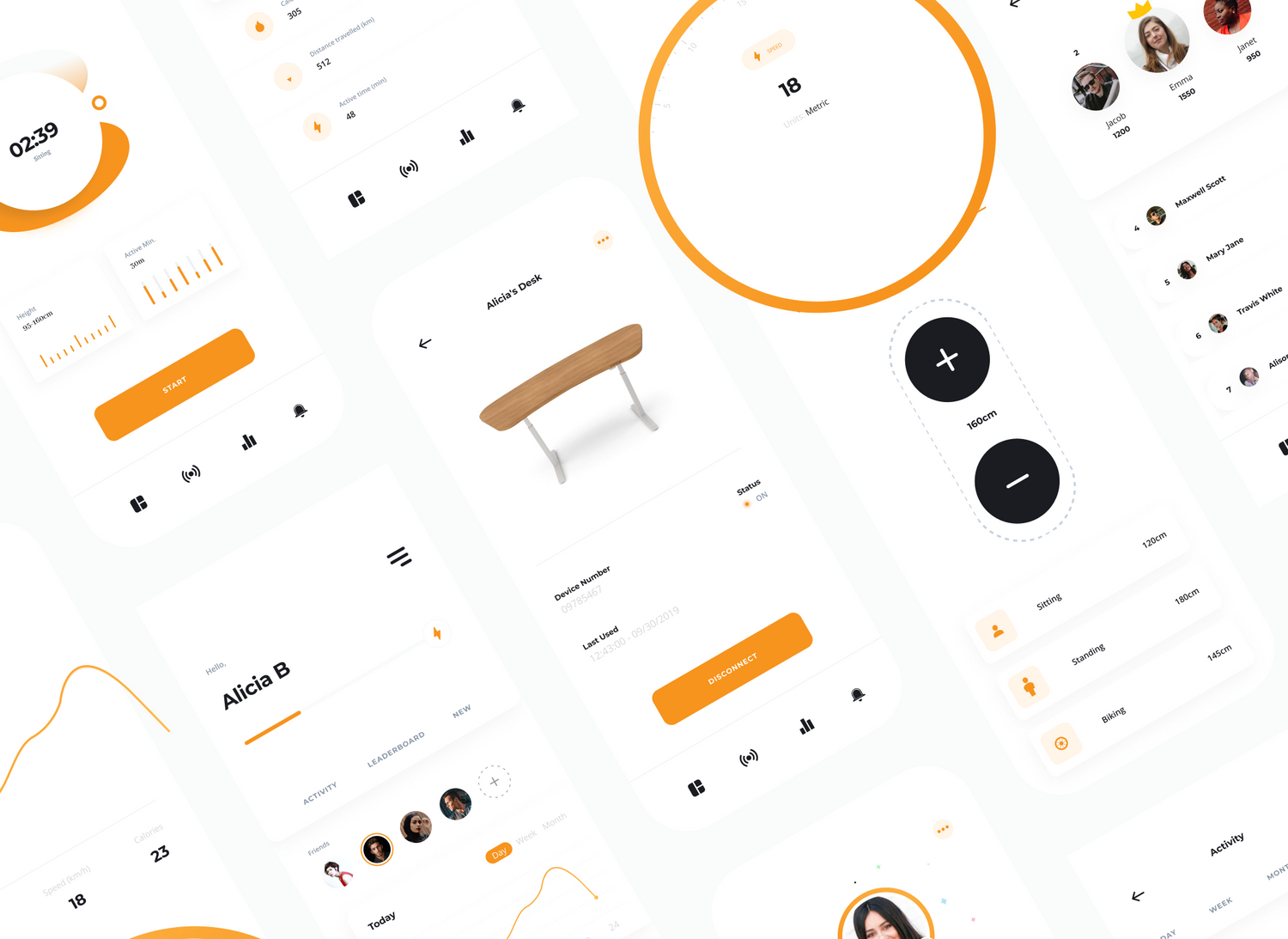 Build healthy habits with ease.
The Ergonomyx app for iOS and Android integrates with the desk as well as our bike, providing control, reminders, and leaderboards and challenges that will keep you motivated and moving.
Set routines that keep you moving. Climb the global leaderboards and earn achievements to bring that extra layer of satisfaction from daily movement. 91% of workers found that gamification improved their work experience while also increasing motivation, productivity, and bonding within a team.  Dominate the competition through our leaderboards, keep moving with routines that remind you when to sit or stand, and configure height presets for sitting, standing, and biking. All within the Ergonomyx app for iOS and Android.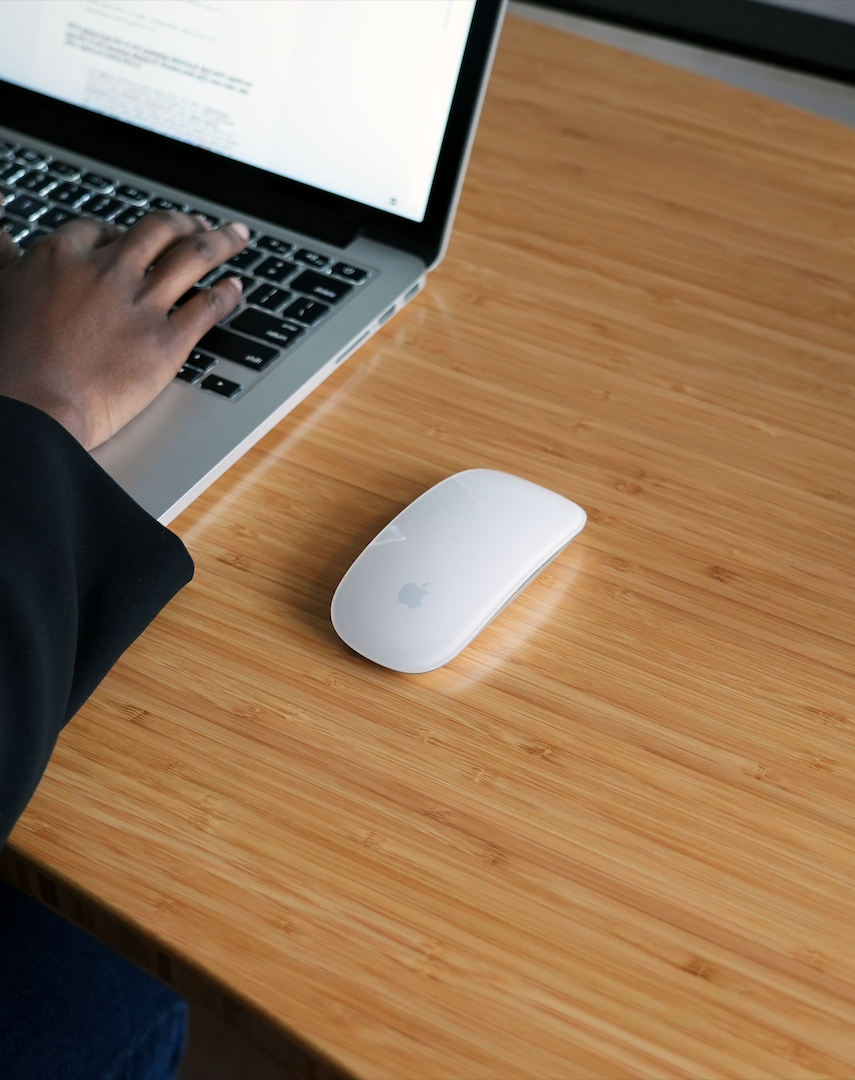 Sleek, sustainable, and durable.
All of Ergonomyx's desktops are made from 100% bamboo — one of the fastest-growing, most sustainable woods on the planet. It also makes for a durable, premium-feeling desktop. Additionally, Ergonomyx's Sit-Stand Natural (Bamboo) tabletops (of all sizes) and all desk frame colours are LEVEL® 2 certified by BIFMA, meeting rigorous sustainability standards.
We chose bamboo for a few key reasons.
1. It's sustainable. Bamboo can grow up to THREE FEET PER DAY. It's grown without any pesticides or chemical fertilizer. It also doesn't require any irrigation and requires fewer resources to harvest and produce than timber and steel.
2. It's strong. Bamboo isn't actually a tree - it's a grass! And it's one of the most durable materials we can make furniture from. Compared to wood, there are fewer weak points and it's overall more flexible and durable. That's why it's often used for cutting boards. If it can withstand getting hit with a knife every day, it can certainly withstand whatever wear and tear it may go through as a desk.
Bamboo is also naturally anti-microbial, scratch resistant, and makes for a beautiful desk top. Making it the clear choice for us.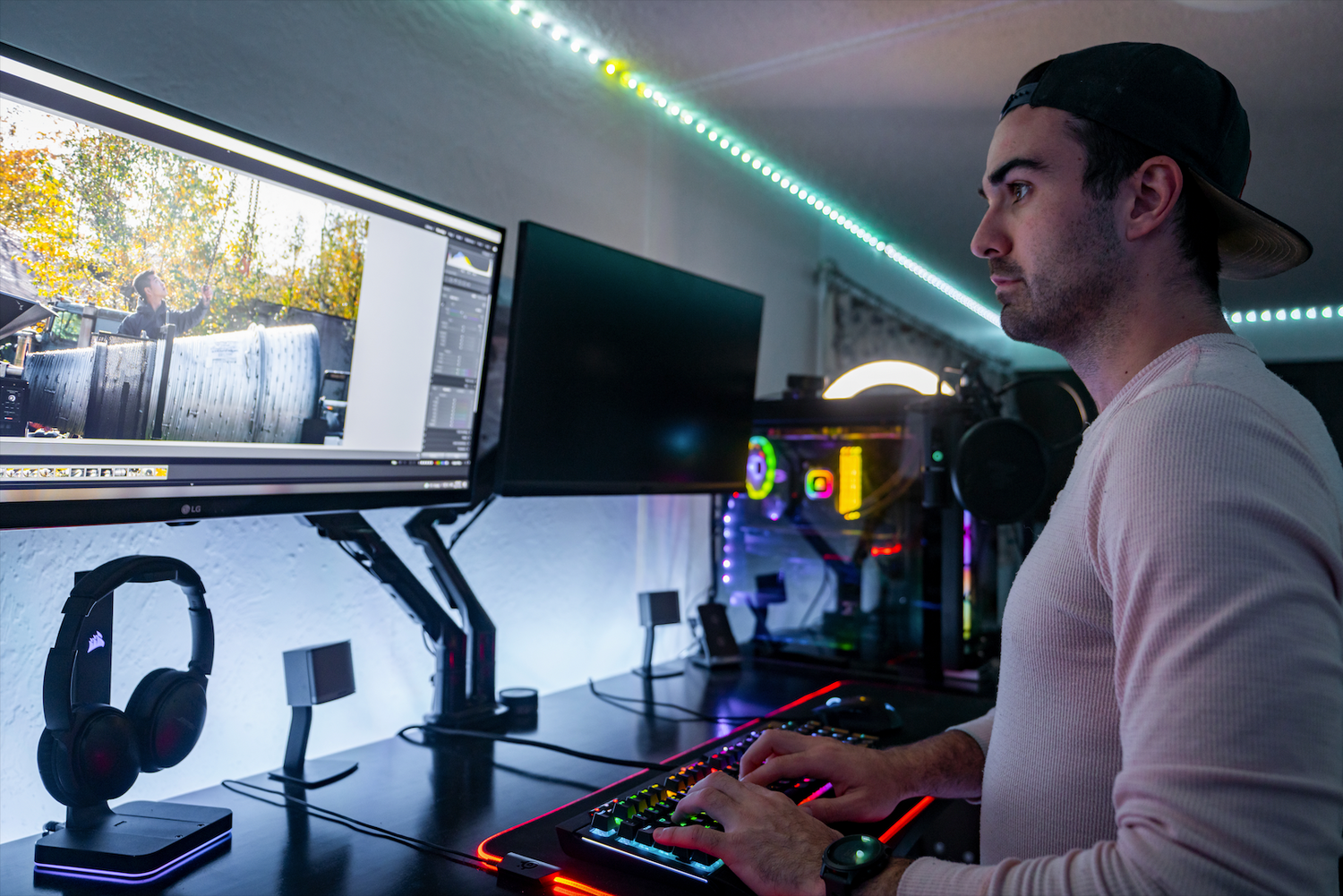 A desk that moves with you
Most standing desks don't get moved much after a few weeks - so the Ergonomyx Smart Sit-Stand Desk was designed to remove all the friction. Just use the touch panel to raise and lower it at any time.
Movement is the cornerstone of our desk. As the app helps keep you moving with routines and easy programmable preferences, the sensor makes it even easier. Adjust the desk to your personal height preferences by simply double tapping the sensor in whatever direction you're adjusting. Or hold it to adjust to whatever height you need for the moment.
Take willpower out of the equation

Functional furniture is only functional if you use it - which is where the Ergonomyx App comes in. Set reminders to sit, stand, and use your bike for set periods of time.

Challenge your friends and coworkers

Get into the spirit of friendly competition! Stack yourself up against up against friends and colleagues, whether you're in the same office or thousands of miles apart.

Make and workspace uniquely yours

Most "smart desks" have a limited number of height presets that are stored in the desk - making it hard for multiple coworkers or family members to share a desk. Take your presets anywhere with the Ergonomyx App.
Don't just take our word for it...